Jak wprowadzić Godzinę Kodowania do Twojej firmy
Find out how you and your employees can inspire students to try computer science!
---
Connect with local classrooms and volunteer for the Hour of Code
Code.org proponuje Twoim pracownikom możliwość połączenia się z lokalnymi klasami uczestniczącymi w Godzinie Kodowania, w których mogą oni dzielić się swoim doświadczeniem zawodowym i inspirować uczniów do nauki informatyki.
For more instructions on encouraging employees and connecting your employees with classrooms, check out our guide for corporate partners.
Additional ways companies can support the Hour of Code
Ask your CEO to send a company-wide email emphasizing the importance of computer science and encouraging employees to spread the word.
Host an Hour of Code Happy Hour with coworkers to try the activities.
Host an Hour of Code event for a local classroom of students or non profits partners to do an Hour of Code at your company's office. See event how-to guide below.
Jak zorganizować Godzinę Kodowania dla uczniów
1. Promuj swoją Godzinę Kodowania
Promote your Hour of Code event and encourage others to host.
Encourage software engineers at your company to visit a local classroom to help lead an Hour of Code and inspire students to study computer science. They can sign up to be connected with a classroom.
2. Obejrzyj ten film instruktażowy
3. Wybierz aktywność
We host a variety of fun, hour-long activities for participants of all ages, created by a variety of partners. Wypróbuj je!
All Hour of Code activities require minimal prep-time, and are self-guided - allowing participants to work at their own pace and skill-level.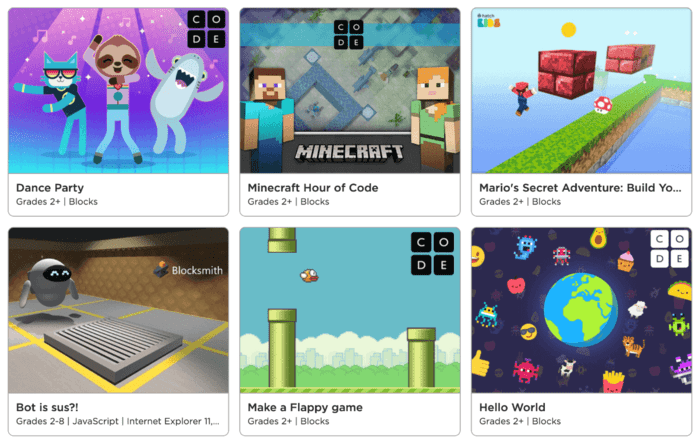 4. Zaplanuj potrzebny sprzęt - komputery nie są niezbędne
Najlepsze doświadczenia z Godziną Kodowania zapewnią komputery z dostępem do Internetu. But you don't need a computer for every participant, and you can even do the Hour of Code without a computer at all.
Plan Ahead! Do the following before your event starts:
Test activities on computers or devices. Make sure they work properly on browsers with sound and video.
Provide headphones, or ask participants to bring their own, if the activity you choose works best with sound.
Czy nie masz wystarczająco urządzeń? Wykorzystaj programowanie parami. When participants partner up, they help each other and rely less on the organizer. Zobaczą także, że praca z komputerem jest działalnością zespołową i uspołeczniającą.
Have low bandwidth? Plan to show videos at the front of the event, so each participant isn't downloading their own videos. Or try the unplugged / offline activities.
5. Rozpocznij swoją Godzinę Kodowania od obejrzenia inspirującego filmu
Rozpocznij Godzinę Kodowania inspirując uczestników i dyskutując, jaki jest wpływ informatyki na każdą sferę naszego życia. Share more about what inspired you to pursue computer science and your role at your company.
Pokaż inspirujący film:
Ideas to introduce your Hour of Code activity to students:
Explain ways technology impacts our lives, with examples both boys and girls will care about - talk about technology that's saving lives, helping people, connecting people.
If you are a tech company, demo fun, innovative products your company is working on.
If you aren't a tech company, discuss ways your company uses technology to solve problems and accomplish goals.
Invite software engineers from your company to speak about why they decided to study computer science and the projects they work on.
Wskazówki, jak zainteresować dziewczęta informatyką, zobacz tutaj.
6. Programuj!
Skieruj uczestników na aktywności
Write the activity link on a whiteboard. Find the link listed on the information for your selected activity under the number of participants.
For younger students, load the activity page ahead of time or save it as a bookmark.
When participants come across difficulties it's okay to respond:
"Nie wiem. Sprawdźmy to razem."
"Nauka programowania jest jak nauka nowego języka; nie od razu władasz nim biegle."
Co zrobić, jeśli ktoś kończy wcześniej?
They can try another Hour of Code activity at hourofcode.com/learn.
Or, ask them to help a friend who are having trouble with the activity.
7. Świętuj