Hvordan arrangere Kodetimen på din arbeidsplass
Finn ut hvordan du og dine ansatte kan inspirere studenter til å prøve informatikk!
---
Kom i kontakt med lokale klasser og bli frivillig for Kodetimen
Code.org tilbyr dine ansatte muligheten til å komme i kontakt med lokale læringsinstitusjoner for å delta på Kodetimen, hvor de kan dele sine erfaringer og inspirere elever til å studere informatikk.
For more instructions on encouraging employees and connecting your employees with classrooms, check out our guide for corporate partners.
Additional ways companies can support the Hour of Code
Ask your CEO to send a company-wide email emphasizing the importance of computer science and encouraging employees to spread the word.
Host an Hour of Code Happy Hour with coworkers to try the activities.
Host an Hour of Code event for a local classroom of students or non profits partners to do an Hour of Code at your company's office. See event how-to guide below.
Hvordan arrangere en Kodetime
1. Reklamer for Kodetimen
Promote your Hour of Code event and encourage others to host.
Encourage software engineers at your company to visit a local classroom to help lead an Hour of Code and inspire students to study computer science. They can sign up to be connected with a classroom.
2. Se en veiledende video
3. Velg en aktivitet
We host a variety of fun, hour-long activities for participants of all ages, created by a variety of partners. Try them out!
All Hour of Code activities require minimal prep-time, and are self-guided - allowing participants to work at their own pace and skill-level.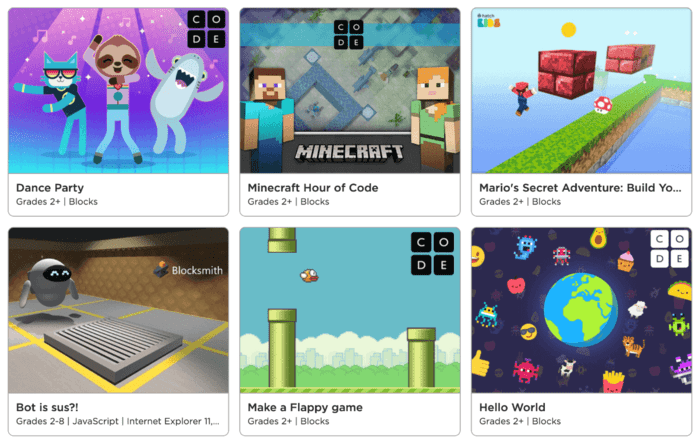 4. Planlegg hva du trenger av utstyr - datamaskin er valgfritt
Best resultater får du om du kjører Kodetimen på Internett-tilkoblede maskiner. But you don't need a computer for every participant, and you can even do the Hour of Code without a computer at all.
Plan Ahead! Do the following before your event starts:
Test activities on computers or devices. Make sure they work properly on browsers with sound and video.
Provide headphones, or ask participants to bring their own, if the activity you choose works best with sound.
Har du ikke nok enheter? Bruk parprogrammering. When participants partner up, they help each other and rely less on the organizer. De vil også oppleve at programmering er sosialt og handler om samarbeid.
Have low bandwidth? Plan to show videos at the front of the event, so each participant isn't downloading their own videos. Or try the unplugged / offline activities.
5. Start Kodetimen med en inspirerende video
Kodetimen kan åpnes med med å diskutere hvordan informasjonsteknologi påvirker oss i hverdagen. Share more about what inspired you to pursue computer science and your role at your company.
Vis en inspirerende video:
Ideas to introduce your Hour of Code activity to students:
Explain ways technology impacts our lives, with examples both boys and girls will care about - talk about technology that's saving lives, helping people, connecting people.
If you are a tech company, demo fun, innovative products your company is working on.
If you aren't a tech company, discuss ways your company uses technology to solve problems and accomplish goals.
Invite software engineers from your company to speak about why they decided to study computer science and the projects they work on.
Se tips for å få jenter interessert i dataprogrammering her.
6. Koding!
Sett i gang elevene med oppgaven
Write the activity link on a whiteboard. Find the link listed on the information for your selected activity under the number of participants.
For younger students, load the activity page ahead of time or save it as a bookmark.
When participants come across difficulties it's okay to respond:
"Jeg vet ikke. La oss finne det ut sammen."
"Å lære seg å programmere er som å lære seg et nytt språk; du kan det ikke flytende med en gang."
Hva gjør jeg hvis noen blir veldig raskt ferdig?
They can try another Hour of Code activity at hourofcode.com/learn.
Or, ask them to help a friend who are having trouble with the activity.
7. Feiring
Print certificates for participants and students.
Print "I did an Hour of Code!" stickers.
Order custom t-shirts for your employees.
Del bilder og videoer av Kodetimen-arrangement på sosiale medier. Bruk emneknaggene #kodetimen, #HourOfCode og @codeorg så vi også kan dra nytte av dine erfaringer. Husk å spørre barna om tillatelse til å dele bilder der de er med!